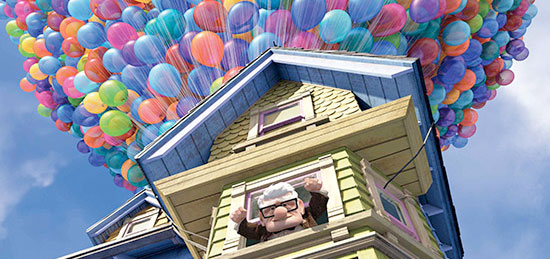 The pop-culture website that I write for–Geekscape–is joining the end-of-the-year listing fray with an entire series of ordered goodness.
The first of a multi-part feature centers around this year in movies. Keep checking back over the next few days (up until the new year) to see more lists covering video games, music, comics, and pop culture. I helped contribute to a few of them.
And, in case you're too lazy to click on the external link, my favorite movies of the year are as follows.
1. Up
Damn those folks at Pixar…can they screw up just once to prove that they're actually human? Up is the next film to join the ranks of what has quickly become one of the greatest cinematic pedigrees ever. Once again, Pixar delivers an exceptional narrative filled with deceptively simple storytelling, beautiful animation, and layers of honest emotion. Now, there's something worth getting your hopes Up for.
2. The Hurt Locker (Should win best picture. It won't.)
3. (500) Days of Summer
4. The Brothers Bloom
5. I Love You, Man
6  The Princess and the Frog
7. Inglourious Basterds
8. District 9
9. World's Greatest Dad
10. State of Play (Most underrated movie of the year. Seriously, check it out folks).
It should be noted, however, that I still haven't gotten around to seeing many of the Oscar buzzed films yet…still haven't seen Precious, Brothers, A Serious Man, Nine, and Up in the Air.